Sanjoy Saha
H.O.D. , Electrical Engineering Department
---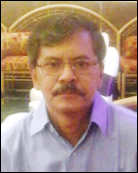 Subjects specialization :  Electrical Machine, Electrical Circuit and Network, Transmission and Distribution, Switchgear and Protection, Control of Machine, Non Conventional Energy, Power Plant Engineering, Electrical Installation Maintenance and Testing.
Email Id :  sahasanjoy2010@gmail.com
Contact Number :
Qualification :  M.E.E. (Power System) from Jadavpur University
Industrial Experience :  14 years
Served MMC, House of Malhotra and more

Served WBSEB (West Bengal State Electricity Board) for 11year. Worked at various Installation, Operation and Maintenance of LV/MV/EHV line and Sub-Station from 230 Volt upto 400 KV.

Undergone Training at National Power Traning Institute (A Govt Of India Society (NPTI) Durgapur for 6 month, Undergone Hands-On Training on 200 MW Real Time Replica Simulator at NTPC (Korba).
Teaching Experience :  23 years
Serving Ramakrishna Mission Shilpapitha as Lecturer in Electrical Engineering Department (8 year as H.O.D. , Electrical Dept.).
Seminars Attended :  Attended various Training Programme Organised by NITTTR (Kolkata) of 1 week and 2 Week Duration.